Summer Bucket List Ideas for Kids
I'm so glad you clicked! I am so tired of seeing summer bucket lists like "take the kids to Singapore" or "Climb Mt. Kilimanjaro." Hey, good for you if that's your thing. I don't think for my kids, that will be on their summer bucket list for teens. (they're both teens now)
That's not my thing. When you have a child with as many medical needs as my child has, remote places in the world are not an option. Still, I wanted to have ideas and activities for us to do this summer, you know, a summer bucket list for kids.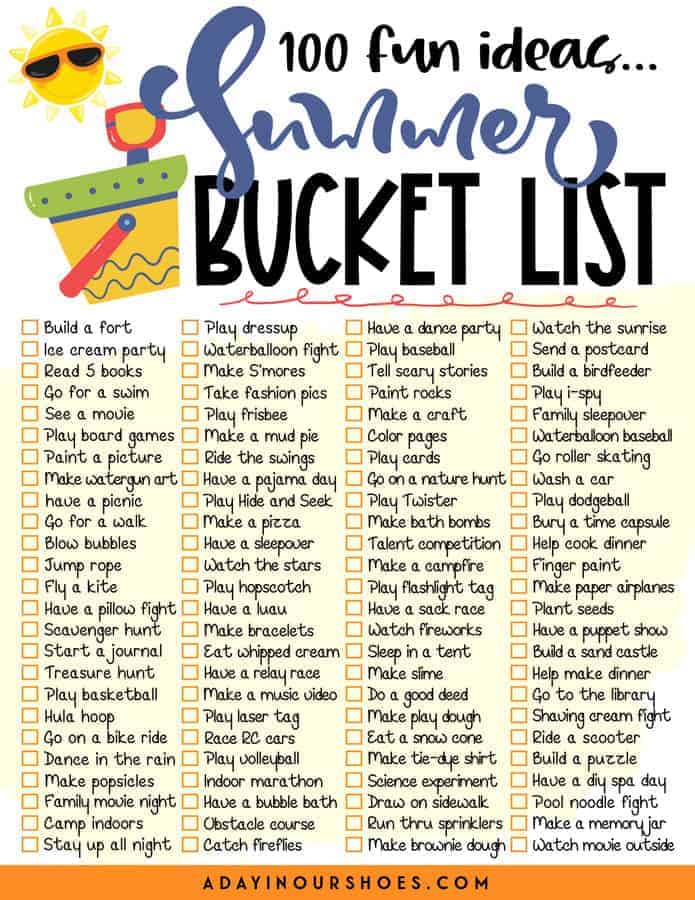 But I still want us to have fun. I have a mental list of things I want to do. And every summer, I never do what I planned to do. With this summer bucket list for kids this year, we will have a great summer.
Finally, no more "what should we do today?" Or my all-time favorite, "I'm bored!"
Most of these activities can be adapted for all ages.
Running through the sprinkler might be too babyish for a teenager.
But a Nerf water gun battle isn't too babyish!
Summer Bucket List
Really, I'm trying not to get totally crazy with summer planning. But, today was an absolutely GORGEOUS day here, just simply perfect weather.
And several times, I had to remind my son that it was a screen-free day and to get him off the Minecraft! put down the Fortnite and go outside! (this is an older post that I'm updating, so he's not into Minecraft anymore)
So frustrating; what is it about some of these games? He always has fun once he gets outside. Sometimes he needs a nudge. I don't want to over-schedule him with camps and other organized activities.
Plus, I am NOT "that mom" who creates craft projects at home. I created this sheet for us to follow. Every year I say that I want the BEST SUMMER EVER. This year we will do it!
Summer Bucket List for Kids
Day trips don't have to be super far or super expensive. Use the internet to find free and low-cost options for local day trips.
You may want to check out a local farm and pick your own produce. Go to a nearby creek and wade in the water, skimming rocks. Most importantly, I want my kids outside!
So here you go, a super low-key printable to remind yourself and your kids to get outside and have some fun.
Summer Bucket List for Kids
Here you go, your printable summer bucket list for kids.
printable-Summer-Bucket-List-for-Kids

Suppose the 100 summer fun activities list for kids and teens is too overwhelming. No worries. I got you!
Here is a simpler, blank summer bucket list for kids. This is for those who need to tackle it in smaller bites. It's the low-stress, low-activity version.
Summer-fun-monthly-bucket-list

Whatever you do this summer, enjoy it!
When you purchase items from Amazon from this site, I receive a small percentage at no additional cost to you. Thank you for supporting A Day in our Shoes.