Autism Safety
I want my son to increase his fine motor skills. I do not, however, want him to be able to unbuckle a seatbelt. When your disabled child acquires a new skill, sometimes it is a mixed blessing. Particularly if that new skill puts them in danger. They now have the fine motor skills to open a seat belt (yay!) but do not have the desire or behavioral skills to leave the seat belt on when the car is moving.
So what do you do?
As my friend Judi often says, you either teach the skill or accommodate the lack of skill.
In this case, I am making accommodations.
When Kevin was a baby, he didn't have a natural curiosity that many babies and toddlers have. Or, he may have had the curiosity but not the motor planning skills to make it happen. We never had to even baby proof the house. My how times change!
Autism Safety and Emergency Plans
Several years ago, I was a Fellow for Save the Children. My role with them was to inform and encourage disability families to create an Emergency Plan. I don't know why it hasn't caught on, but it hasn't. Still, I continue to education (read: nag!) parents about this.
We all worry about how to keep our kids safe. But when they have autism, are non-verbal or rely on others for mobility, our fears are exacerbated. Parents of disabled children need to develop safety plans, with much more urgency than our non-disabled peers. These plans should be based on how well your child can communicate, health needs, and sensory issues.
Having a family emergency plan is critical! It can help you to find your child if he/she goes missing. An emergency plan also serves to reunite you with your child in the event of a natural disaster or school shooting. The first step in your plan should be increasing awareness both in your child and the community. If your child is not verbal or would have trouble telling others that he or she is lost, a bracelet or other product can give adults helpful information. f your child is an eloper, make sure that all family, caregivers, and school staff know this. Talk with your neighbors and local police about your child's tendency to wander and make sure that they have up to date information. Here in PA, we have the Premise Alert System (started by my friend Susan!). Many of our police departments recognize this, but it's a great form to take to your local police and fire stations, even if you're not in PA.
Teaching Autism Safety Skills
Have regular and frequent safety talks with your child. Many children with autism learn from repetition, so repeating rules and procedures may work for you. It's important to be aware of comorbid conditions, so that information is presented in a way that doesn't exacerbate conditions like anxiety.
Parents should do this on their own, and no rely on a school to make this happen. There are just too many issues with IEP non-compliance, and safety is too important of an issue. If your child is in a Life Skills Program or another non-traditional curriculum, it may be easier to get this added to the IEP. Regardless, parents should make sure that this happens and the only way to ensure that is if we do it.
I don't know of any specialist or expert who does evaluations in this area. I think it's going to all be on Mom and Dad. But you want to make sure that your child is safe in your car and on their ride to/from school. My bus company had to purchase a special seat for Kevin. And I know that they purchased a harness for another child. Like anything else, if you want it in your IEP, follow the process. Note it in parent concerns, discuss it at the IEP meeting, and then get it on a PWN.
Autism Car and Seatbelt Safety
Your child's needs will determine what you purchase. Research what you can online. Ask your local police department or transportation department. You can find just about everything. There are seatbelt covers, stickers and decals for cars, harnesses, seat belt buckle covers and other products that disable door handles. You can also call the customer service number of your car manufacturer and ask if they have something.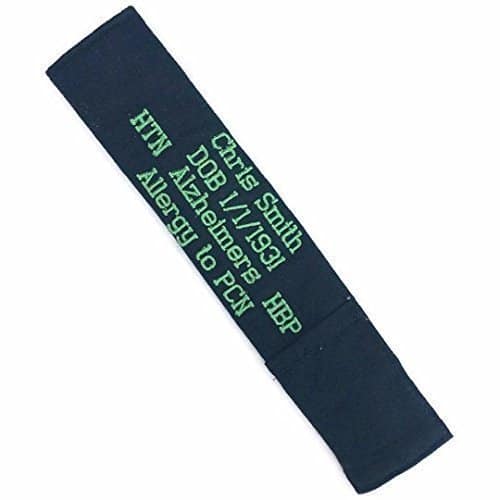 Seat Belt Locking Clips
These are a necessity for a lot of kids. For some, just putting a lock over the seatbelt buckle will do the trick. But, some kids have the dexterity to get them open. In which case, you may want to try a harness that fastens in the back.
Make sure you practice using it. In the event of an emergency, you want to be able to release it quickly. Still, I believe most police officers and EMTs will tell you that a seatbelt is much more important than the risk of not being able to unbuckle it quickly.
Free Autism Safety Kit
Hopefully what I've shown you here will get you started on getting what you need. Thankfully most of these products are inexpensive. I know that the NAA offers a free kit for home safety, but I was unable to find a grant or free program for car safety.
Autism Safety Products
Have regular and frequent safety talks with your child. Many children with autism learn from repetition, so repeating rules, expectations, and plans can be beneficial. When you teach safety rules, make sure to list where to use the rules, such as school, the park, or a store. If your child likes to wander or likes to play in water, make sure to spend extra time talking about those safety rules.
Having a plan can help you to find your child if he or she is missing. The first step in your plan should be increasing awareness both in your child and those around him or her.
Have your child practice what to do if he or she is lost. If your child is not verbal or would have trouble telling others that he or she is lost, a bracelet or other product can give responders helpful information. Make sure your child practices how to show the product.
If your child tends to wander away, make sure that all family, caretakers, and school staff know of this pattern. Give them a plastic-coated card with your child's name, current picture, diagnosis, emergency contact numbers, and what your child does and does not respond well to. Also talk to your neighbors and local police about your child's tendency to wander and give them the same up-to-date information. Most police stations have systems, such as the PREMISE Alert System, where you can submit a file for your child with special needs and include important information for responders.
Water is another top safety concern. Check all gates, pool covers, toilet locks, and any other safety devices, especially if your child is drawn to water. When your child can start swimming lessons varies, but being able to swim independently is only one benefit of lessons. Children also learn basic water safety rules through early childhood swim programs. Many programs offer adaptive swim lessons for children with autism. These programs are a great way for your child to learn about water safely and comfortably.
Keep in mind that this list is their top sellers. This is also 'bot-generated' and updated based upon sales, not my personal opinion of the product.
Bestseller No. 1
Sale
Bestseller No. 2
ENSSU Quiet Baby Hair Clippers, Lower Noise Haircut Trimmers for Children with Autism and Sensory Sensitivity, Babies Infant Kids Waterproof Hair Cutting Kits
【Lower Noise】Advanced noise reduction technology and high quality brass movement motor to enable this baby hair clipper to work in low vibration and very low working noise about 48dB, just like pillow talking. Baby will be relaxed and eased. Note: It's not soundless, there are working "buzz"vibration sound in the hair clipper.
【Safe and Comfortable】Baby clippers utilize special R-sharped design blade with widened rounded tips, ceramic blade and high quality brass movement motor to secure safety. With 0.5mm gap to the skin, the ceramic blade is special designed for 0-12 years old babies.ENSSU baby hair clipper will not harm or scratch infant's sensitive skin. which will enable hairs trimming comfortable and smooth.
【Fully Washable】Unique sealing design, the whole body of this baby clippers is waterproof at an IPX-7 level. It can be soaked in water for 24 hours.This feature will help you easily tidy up the hairs by using the provided brush and then clean it in water.It is easy to clean and maintenance this baby hair clipper.
【Easy Operation】Streamline body curve designed,this baby clipper size is smaller than other clippers to make this clipper is easier to handle and better trim hairs, especially hairs around the ears. The 3-6mm and 9-12mm guide combs will help you trim your baby's hairs easier. You do not need to nervous and worry about making mistakes.
【Warm Tips】 We recommend that you can first give your baby a touch of our hair clipper and turn it on to familiarize him/her with its sound before cutting. After he feels safe with the clipper, you can distract him/her by playing some videos while cutting, or just cut his/her hairs while sleeping.
Bestseller No. 3
LazrArt Premium Autism Autistic Aspergers Bracelet - Free Dark Laser Engraving Custom Personalization
Your words, custom engraved, up to 7 lines of 18 characters
Use the CUSTOMIZE NOW button to specify the words to be engraved on the tag and to select tag color. There are 2 panels you need to update.
Black silicone rubber wristband fits wrists from 6" to 10". Excess material can be trimmed with scissors. TOO LARGE FOR MOST INFANTS AND YOUNG CHILDREN. Non-Removable, Temporary Vinyl Wristbands can be purchased by searching for item B09MV7QTW4
Tags are 1" by 2" and are made of chrome-plated or gold-plated brass. Laser engraving is permanent and appears brown on the tag
IS IT NEW OR USED? We have tags and wrist bands manufactured for us in large quantities. These are brand new items. We laser engrave the tags as you request. The tag is manually curved, assembled and packaged in a plastic bag (see last photo). These items have been touched, but are still new, never before sold items. During shipping, on very rare occasions, postal equipment may cause damage to the product. If that occurs, please message us to rectify the issue.
Bestseller No. 4
Child Safety Door Top Lock,Door Locks for Kids Safety,Keep Toddler Away from Basement & Garage,Prevent The Elderly with Dementia from Getting Lost,for Childproof Interior/Exterior Doors(White,1 Pack)
✔【Durable & Unobtrusive】: The child proof door lock is made of durable metal for long-lasting use. The toddler door locks mounts on top of the door frame and you won't even realize it's there.
✔【Easy to Install and Use】: Adjust the sliding lock gap according to the thickness of the door panel, install three screws on the door frame. Slide the lock block back and forth to lock and unlock the door.
✔【Two Sides Operated and No More Locked】:The child safety locks for doors can be operated from both sides of the door, you will never be trapped inside again.
✔【Keep Away From Danger】Stop toddlers from venturing where they don't belong (bathroom, storage room, basement, garage, etc.), prevent the elderly with dementia, children with autism and pets from getting lost.
✔【Wide Compatibility】: The child safety door locks are suitable for most standard hinged interior and exterior doors, including French doors and double doors.not suitable for any type of sliding doors on the track, such as bifold doors,sliding doors,Glass doors or sliding decorative barn doors.
Sale
Bestseller No. 5
Dr.meter Anti Lost Wrist Link, 2 Pack Toddler Safety Leash with Key Lock, Reflective Child Walking Harness, 8.2ft Blue + 4.92ft Orange Kids Leash for Supermarket Mall Airport Amusement Park Zoo Travel
❤【Secure Your Child】Dr.meter's Key-Lock Design ensures your child's safety by preventing them from removing the anti lost wristbands without the 2 included keys.
❤【Two-Pack for Extra Safety】Our set includes two wristbands with extended cuffs, allowing children the freedom to roam while staying within a safe distance. The blue link extends 8.2 feet and the orange link extends 4.92 feet - perfect for any situation.
❤【Comfy and Secure】Our ultra-soft, breathable sponge padding and round-cornered velcro straps provide a comfortable and secure fit, protecting your child from uncomfortable scratching and sweat.
❤【Durable and Reliable】The thickened steel wire is coated in high-quality PU, making it strong and durable while still recoiling automatically. This is a must-have for your energetic children during outdoor activities.
❤【Reflective and Flexible】The built-in reflective tape keeps your child visible in low light situations, and the 360-degree swivel clip allows free and flexible movement so your kids can stay safe without feeling restricted.
Bestseller No. 6
Autism Safety Alert Window Clings and Decals 4-Pack
Includes Four Safety Alerts - two white removable static cling and two white permanent decals. Each is 4 inches by 3 inches
Made In The USA, the clings are applied inside to be viewed from outside and the decals are applied to the outside.
Providing Help In An Emergency, the red and black text is easy to read by first responders
You'll receive four safety alerts to be prepared for your home's front and back doors and in your cars.
Satisfaction Guaranteed. Click the 'Add to Cart' button.
Bestseller No. 7
RIIKUNTEK Kids Ear Protection - SNR 27dB Safety Ear Muffs Noise Cancelling Headphones for Kids, Autism, Toddlers, Hearing Protection Ear Defenders for Sports Events, Concerts, Fireworks, Air Shows
【Kids Ear Protection】: Keep your child safe, our noise reduction earmuffs provide 27dB SNR (CE EN352-1) high noise reduction function, protecting your child's hearing from damage.
【Comfortable & Durable】: The ear pads of the safety earmuffs are made of soft leather and sound-proof sponge, which can be rotated 360°, adjustable headband can be extended by 3 cm, ensuring a comfortable fit for your child.
【Perfect for Sensitive Children】: 65% of children with autism are oversensitive to sound, but our noise-canceling headphones for kids can reduce the sounds that are upsetting to them, stabilizing their emotions.
【Lightweight & Portable】: This ear defenders only 205g, making them easy to carry around in your bag for emergencies. The foldable design perfect for indoor and outdoor use, ideal for airplane, concerts, fireworks, sports events, yard work, shooting range, etc.
【Unique Design-Starry Sky】: Every child has a dream that become astronauts and travel in the vast space when they grow up. This earmuffs not only inspire child's imagination, but also guides them to more healthy and upward hobbies, recommended for kids ages 1-16 years.
Bestseller No. 8
DWJSu Autism Awareness Pandora Charm Puzzle Piece Enamel ASD Bead You Fit Me Perfectly Heart Charms for European Charm Bracelet, (DW-NEW066)
Hole Size: 4.5-4.8mm; Nickel-free, lead-free, cadmium-free and hypoallergenic.
Autism Awareness Charm-Compatibility:Compatible with Troll, Chamilia, Pandora, Biagi or other styles of European Bracelets
Meaningful Gift:A wonderful gift for that special person in your life - whether it is for a birthday, Valentines Day, an anniversary, or any other special occasion.
Customer Service: Whether you are our customer or not, we will provide the great service for you! Your satisfaction is the biggest driving force for us to move forward.90-Day Money Back Guarantee or Exchange,and if you have any question, please be free to contact us!
Autism, also called autism spectrum disorder (ASD), is a complicated condition that includes problems with communication and behavior.
Bestseller No. 9
LoveHugs Musical Star Plush Sensory Light Up Toys - Autism Sensory Toys - Newborn Toys - Twinkle Twinkle Little Star Sensory Toys for Autistic Children
A SOOTHING & CALMING MULTI SENSORY EXPERIENCE: Our calming toys soft colour changing lights, super soft cuddly exterior and calming "Twinkle, Twinkle Little Star" music has been designed to help sooth and calm your child at any time they need calm reassurance. It's designed for children of all ages including children with special needs or sleep issues.
PERFECT FOR PEACEFUL BEDTIMES FOR BABIES, TODDLERS & CHILDREN: The gentle glowing colours and soothing lullaby of "Twinkle, Twinkle Little Star" is perfect for making bedtime more peaceful, enabling you to get your little ones drift off to sleep more easily.
VERSATILE SENSORY EQUIPMENT: Our star cushion can be used by children of all ages and spectrums including babies, toddlers and older children, plus children with sleep issues or special needs. Our light up stuffed animal can be used as a night light, as a cuddle toy or can also be hanged from the ceiling or door.
EASY TO USE: Simply pinch the "ON" button by hand, and the light up star will glow soothingly and change every few seconds, whilst playing a soothing lullaby to calm your child.
SAFE, DURABLE & HIGH QUALITY: Our light up toy is made with high quality super soft polyester, and is designed to be safe and durable, ensuring that it can withstand the wear and tear of everyday use. The product is fully safety tested and complies with all USA safety regulations including ASTM F963-17.
Sale
Bestseller No. 10
Sliding Door Lock for Child Safety - Sliding Closet Door Lock -Sliding Door Baby and Pets Proof- No Drill Tools Needed - 2 Pack Perfect for Sliding Windows, Patios Doors, Closet Doors,Cabinet Doors
Sliding Door Lock for Child Safety – 2023 Upgraded Sliding Door Lock Unlike other sliding glass door lock, this sliding door child lock is installed beside door shelf and works once double buttons pressed simultaneously, which stops the door slided and passed each other. If you need to closed lock,you must press both side buttons and the lock panel at the same time .(Other similar sliding glass door locks are easy for children to unlock and prone to accidents)
Window Locks Child Proof – Never worry about sliding window locks broken with high quality ABS plastic, stainless steel spring and strong 3m adhesive tap. The 3M sliding door lock will not lose effectiveness or power even when you routinely open and shut your hung windows every day!
EASY TO INSTAL– Installing sliding door lock has never been this easy, no drilling tools needed! The sliding door lock only needs three steps to install.Step 1,clean the working area for this lock.Step 2,peel off 3M tape.Step 3,stick this device onto the desired location of sliding doors for your patio,closet,cabinet as well sliding window.Done!
Sliding Door Baby And Pets Proof– Keep valuable belongings from young child proof sliding door or hung window with durable and effective sliding door lock. This sliding door lock has been proven to withstand the pulls and tugs of babies and children, keep doors and windows opened in safe!
Sliding Door Lock After-Sales Communication - We know that patio Sliding glass door lock will work perfect. In case that you are not satisfied with this sliding window locks, It is welcome to let us know any time and the helpful solution will be provided in 12 hours. A good safe gift for the kids to get great benefits!
Sale
Bestseller No. 11
12 pcs Child Safety ID Wristband,ID Safety Wristbands Infobands Bracelets for Kids Child Travel Event Field Trip,Waterproof Kids Safety Bracelet,Anti Lost ID Wristband,Reusable SOS Bracelet for kids
【Safety Wristband 】 To label phone number, name, address or other information that could give your child an instant assistance in an emergency;
【Adjustable length】 The Safety Wristbands measures 7.7 x 0.8 inches (19.5 x 2 cm).You can can adjust fitable length for kids;
【Scope of use】 Colorful pattern Bracelet can meet your satisfaction, suitable for parties, playgrounds, shopping malls and so on;
【Easy To Use】 Only two steps to complete, simply write your mobile number inthe space provide on the ID Safety Bracelets and pop it on the kids' wrist, the Safety ID Bands can be labeled with a standard ballpoint pen, which is easy and convenient to use for your kids;
【Durable & Waterproof】 Designed with skin-friendly PVC material,our safety Wristband Bracelets is tear-resistant, soft and gentle;
Bestseller No. 12
Child With Autism Lives Here Sign, Hanging Wood Sign Home Decorative, Printed Wood Wall Art Sign, Autism Awareness Sign, Rustic Autism Door Hanger, Autism Family Hanging Wall Art Decor 12 * 6inch
Size is:6 inches tall, 12 inches wide, and 0.12 inches thick
Material: Made of high quality MDF wood material, the decoration is reliable to use, strong, no odor, not easy to fade and crack, very durable and not easy to damage.
Easy to use: The wooden wall sign is equipped with a hemp rope hanging strap, which is convenient and simple for you to quickly and easily do wall installation, and can be hung anywhere in the home you want
Good Workmanship: These wooden signs are durable printed and well made, making them ideal for indoor use and giving your house a chic look; while these signs are more suitable for indoor use, they can also be used outdoors as long as they are not exposed to moisture.
EXCELLENT GIFT: Beautiful hanging tag is a great gift for Christmas, Thanksgiving, outdoor or indoor parties, birthday parties, New Years decorations, it can be used as a beautiful decoration for windows or fireplaces, it is also a good gift or housewarming decoration for your friends, family or believers
More Autism Safety Resources:
When you purchase items from Amazon from this site, I receive a small percentage at no additional cost to you. Thank you for supporting A Day in our Shoes.