Autism Safety
I want my son to increase his fine motor skills. I do not, however, want him to be able to unbuckle a seatbelt. When your disabled child acquires a new skill, sometimes it is a mixed blessing. Particularly if that new skill puts them in danger. They now have the fine motor skills to open a seat belt (yay!) but do not have the desire or behavioral skills to leave the seat belt on when the car is moving.
So what do you do?
As my friend Judi often says, you either teach the skill or accommodate the lack of skill.
In this case, I am making accommodations.
When Kevin was a baby, he didn't have a natural curiosity that many babies and toddlers have. Or, he may have had the curiosity but not the motor planning skills to make it happen. We never had to even baby proof the house. My how times change!
Autism Safety and Emergency Plans
Several years ago, I was a Fellow for Save the Children. My role with them was to inform and encourage disability families to create an Emergency Plan. I don't know why it hasn't caught on, but it hasn't. Still, I continue to education (read: nag!) parents about this.
We all worry about how to keep our kids safe. But when they have autism, are non-verbal or rely on others for mobility, our fears are exacerbated. Parents of disabled children need to develop safety plans, with much more urgency than our non-disabled peers. These plans should be based on how well your child can communicate, health needs, and sensory issues.
Having a family emergency plan is critical! It can help you to find your child if he/she goes missing. An emergency plan also serves to reunite you with your child in the event of a natural disaster or school shooting. The first step in your plan should be increasing awareness both in your child and the community. If your child is not verbal or would have trouble telling others that he or she is lost, a bracelet or other product can give adults helpful information. f your child is an eloper, make sure that all family, caregivers, and school staff know this. Talk with your neighbors and local police about your child's tendency to wander and make sure that they have up to date information. Here in PA, we have the Premise Alert System (started by my friend Susan!). Many of our police departments recognize this, but it's a great form to take to your local police and fire stations, even if you're not in PA.
Premise-Alert-Form

Teaching Autism Safety Skills
Have regular and frequent safety talks with your child. Many children with autism learn from repetition, so repeating rules and procedures may work for you. It's important to be aware of comorbid conditions, so that information is presented in a way that doesn't exacerbate conditions like anxiety.
Parents should do this on their own, and no rely on a school to make this happen. There are just too many issues with IEP non-compliance, and safety is too important of an issue. If your child is in a Life Skills Program or another non-traditional curriculum, it may be easier to get this added to the IEP. Regardless, parents should make sure that this happens and the only way to ensure that is if we do it.
I don't know of any specialist or expert who does evaluations in this area. I think it's going to all be on Mom and Dad. But you want to make sure that your child is safe in your car and on their ride to/from school. My bus company had to purchase a special seat for Kevin. And I know that they purchased a harness for another child. Like anything else, if you want it in your IEP, follow the process. Note it in parent concerns, discuss it at the IEP meeting, and then get it on a PWN.
Autism Car and Seatbelt Safety
Your child's needs will determine what you purchase. Research what you can online. Ask your local police department or transportation department. You can find just about everything. There are seatbelt covers, stickers and decals for cars, harnesses, seat belt buckle covers and other products that disable door handles. You can also call the customer service number of your car manufacturer and ask if they have something.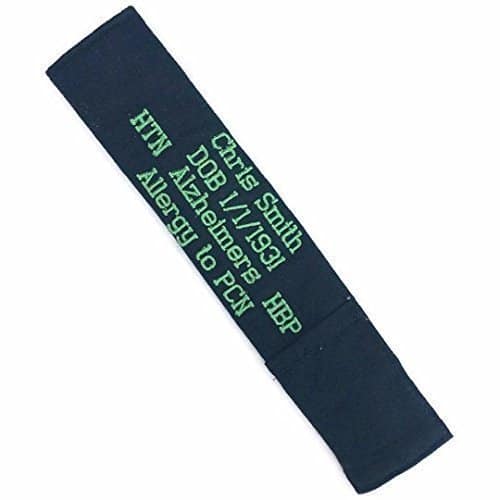 Seat Belt Locking Clips
These are a necessity for a lot of kids. For some, just putting a lock over the seatbelt buckle will do the trick. But, some kids have the dexterity to get them open. In which case, you may want to try a harness that fastens in the back.
Make sure you practice using it. In the event of an emergency, you want to be able to release it quickly. Still, I believe most police officers and EMTs will tell you that a seatbelt is much more important than the risk of not being able to unbuckle it quickly.
Free Autism Safety Kit
Hopefully what I've shown you here will get you started on getting what you need. Thankfully most of these products are inexpensive. I know that the NAA offers a free kit for home safety, but I was unable to find a grant or free program for car safety.
Autism Safety Products
Have regular and frequent safety talks with your child. Many children with autism learn from repetition, so repeating rules, expectations, and plans can be beneficial. When you teach safety rules, make sure to list where to use the rules, such as school, the park, or a store. If your child likes to wander or likes to play in water, make sure to spend extra time talking about those safety rules.
Having a plan can help you to find your child if he or she is missing. The first step in your plan should be increasing awareness both in your child and those around him or her.
Have your child practice what to do if he or she is lost. If your child is not verbal or would have trouble telling others that he or she is lost, a bracelet or other product can give responders helpful information. Make sure your child practices how to show the product.
If your child tends to wander away, make sure that all family, caretakers, and school staff know of this pattern. Give them a plastic-coated card with your child's name, current picture, diagnosis, emergency contact numbers, and what your child does and does not respond well to. Also talk to your neighbors and local police about your child's tendency to wander and give them the same up-to-date information. Most police stations have systems, such as the PREMISE Alert System, where you can submit a file for your child with special needs and include important information for responders.
Water is another top safety concern. Check all gates, pool covers, toilet locks, and any other safety devices, especially if your child is drawn to water. When your child can start swimming lessons varies, but being able to swim independently is only one benefit of lessons. Children also learn basic water safety rules through early childhood swim programs. Many programs offer adaptive swim lessons for children with autism. These programs are a great way for your child to learn about water safely and comfortably.
Keep in mind that this list is their top sellers. This is also 'bot-generated' and updated based upon sales, not my personal opinion of the product.
Sale
Bestseller No. 1
Anti Lost Wrist Link, 2 Pack Toddler Safety Leash with Key Lock, Dr.meter Reflective Child Walking Harness Rope Leash for Kids Babies, 8.2ft Blue + 4.92ft Orange
❤【Key-Lock Design】Dr.meter Lock Design ensure that child cannot get rid of anti lost wristbands unless parents unlock the lock (on the child's side) with 2 included keys
❤【2-pack Safety Wristbands】Two is better than one. Blue link can extend up to 8.2 feet, orange link can extend up to 4.92 feet. Both perfect for keeping little ones close by but with more freedom to roam. The upgraded extended cuffs' size will fit all wrists
❤【Comfy and Secure】Ultra-soft, breathable sponge padding and round-cornered velcro straps protects wrists from uncomfortable scratching and sweat while holding the safety wrist cuffs in place
❤【High Quality Steel Cord】The thickened steel wire is coated in great PU. It will recoil automatically but won't break, crack. It's a must have leashes for your feisty, energetic kids at outdoors
❤【Rotatable and Reflective】Built-in reflective tape keeps your child safe in the dark, while a 360 degree swivel clip allows free and flexible movement. Your kids will stay safe without feeling constricted
Sale
Bestseller No. 2
1 Pack - GlideLok Child Safety Door Top Lock Made of Durable Metal (Not Cheap Plastic Like Other Models) | for Childproofing Interior/Exterior Doors | Adults Can Operate Lock from Both Sides
PLEASE MEASURE THE THICKNESS OF YOUR DOOR. Works on most hinged doors up to 1-3/8" thick (or up to 1-13/16" thick if you remove GlideLok's spacer bar). Works on interior / exterior doors, French doors, and doors with levers, knobs and large or uniquely shaped handles. Does NOT work on any type of sliding door on a track, such as bifold doors, pocket doors, or sliding glass doors. Also does NOT work on metal door frames, patio screen doors, storm doors or double doors that swing both ways.
REQUIRES 1 SCREW (INCLUDED) TO BE DRILLED INTO YOUR DOOR FRAME. If you are installing on an exterior door that opens inward into your home, please note the screw will be drilled on the exterior/outside part of your door frame. The GlideLok has holes for the possible attachment of a hook or rod (NOT INCLUDED), which is helpful for especially tall doors / shorter adults. If you do not attach a rod, you must be able to reach the top of your door to slide the GlideLok back and forth.
DURABLE METAL WON'T CRACK OR BEND LIKE CHEAP PLASTIC MODELS. GlideLok is the only top-of-door childproofing system of its kind made of high-quality painted metal, not flimsy plastic. So it will last you for years keeping toddlers from opening doors to unsafe areas in your home. The GlideLok makes your life easier and - most importantly - keeps your little ones safe.
RESTS ON TOP OF THE DOOR SO KIDS CAN'T REACH IT. Unlike door knob covers or other door lever locks, the GlideLok sits on top of your door like a saddle, so it's completely out of reach and your child can't dismantle it. It is also unobtrusive and blends in with your décor. Most people won't even realize it's there.
ADULTS CAN CONVENIENTLY LOCK AND UNLOCK THE DOOR FROM BOTH SIDES. Unlike other types of door lever handle locks, you will not get trapped in a room while your child wanders around the house alone. Adults can operate this lock from both sides of the door. Also, if you don't need it locked for a period of time, simply leave the GlideLok disengaged and you won't have to unlock every time.
Bestseller No. 3
Bestseller No. 5
Harkla Hug Autism Sensory Chair (48 inches) - Inflatable Sensory Peapod for Children with Sensory Needs - Therapeutic Compression Sensory Toys | Kids 2 to 6 | Pea Pod, Air Pump & Repair Kit Included
YOUR CHILD'S NEW FAVORITE RELAXATION SPOT: Does your child struggle to find a comfortable spot to calm down and stay calm? The Harkla Hug offers the right mix of deep pressure and a sense of security. Watch your child return to calm in our inflatable peapod.
GREAT FOR SENSORY INPUT: The Harkla Hug benefits kids with autism, special needs and sensory processing disorder. Similar to a sensory squeeze machine, the Hug applies deep touch pressure for relief. Plus, the bottom of the sensory peapod chair can inflate creating a rocking motion integrating vestibular input into playtime.
LIFETIME GUARANTEE: The Harkla Hug was designed in Idaho, USA. All Harkla autism sensory furniture and products come with a lifetime guarantee. If you aren't satisfied with the sensory chair, we aren't satisfied either. As a USA company, we're ready and able to help.
COMFORTABLE, DURABLE, AND EASY TO USE: Harkla makes sensory products with your family in mind. That's why your order of an inflatable pea pod comes with an electric pump so getting started with the sensory pod is fast and easy. We've also designed the sensory pea pod out of comfortable, yet strong flocked vinyl. It feels like velvet to the skin but will hold up during playtime.
1% OF SALES GO TO THE UW AUTISM CENTER: A portion of every Harkla order goes to support autism research. That means your purchase of our sensory toys gives back.
Bestseller No. 6
Premium Autism Autistic Aspergers Bracelet - Free Dark Laser Engraving Custom Personalization
Your words, custom engraved, up to 7 lines of 18 characters
Use the CUSTOMIZE NOW button to specify the words to be engraved on the tag and to select tag color. There are 2 panels you need to update.
Black silicone rubber wristband fits wrists from 6" to 10". Excess material can be trimmed with scissors. TOO LARGE FOR MOST INFANTS AND YOUNG CHILDREN. Non-Removable, Temporary Vinyl Wristbands can be purchased by searching for item B09MV7QTW4
Tags are 1" by 2" and are made of chrome-plated or gold-plated brass. Laser engraving is permanent and appears brown on the tag
IS IT NEW OR USED? We have tags and wrist bands manufactured for us in large quantities. These are brand new items. We laser engrave the tags as you request. The tag is manually curved, assembled and packaged in a plastic bag (see last photo). These items have been touched, but are still new, never before sold items. During shipping, on very rare occasions, postal equipment may cause damage to the product. If that occurs, please message us to rectify the issue.
Bestseller No. 7
Door Lever Lock (2 Pack) Child Proof Doors & Handles 3M Adhesive - Child Safety By Tuut
Compatible with standard door lever handles. US Patent No. 10,221,587
NEW PATENTED TECHNOLOGY: No more children locking you in a room. The only way to lock and unlock the lever lock is by pressing the buttons!
Deter children from opening doors with a Door Lever Lock. Simple, unobtrusive design that blends into your room design.
Easy Installation: Peel the damage-free 3M adhesive and place the lever lock on the door.
EXCLUSIVE LIFETIME GUARANTEE: If at any time you're not 100% satisfied, Tuut will offer a full refund on your purchase of child safety door lever lock!
Bestseller No. 8
Autism Safety Alert Window Clings and Decals 4-Pack
Includes Four Safety Alerts - two white removable static cling and two white permanent decals. Each is 4 inches by 3 inches
Made In The USA, the clings are applied inside to be viewed from outside and the decals are applied to the outside.
Providing Help In An Emergency, the red and black text is easy to read by first responders
You'll receive four safety alerts to be prepared for your home's front and back doors and in your cars.
Satisfaction Guaranteed. Click the 'Add to Cart' button.
Bestseller No. 9
RIIKUNTEK Kids Ear Protection - SNR 27dB Safety Ear Muffs Noise Cancelling Headphones for Kids, Autism, Toddlers, Hearing Protection Ear Defenders for Sports Events, Concerts, Fireworks, Air Shows
【Kids Ear Protection】: We believe that many parents are very concerned about children's emotions and hearing will be affected by environmental noise. Our noise reduction earmuffs provide 27dB SNR (CE EN352-1) high noise reduction function.
【Ultre Comfortable & Durable】: The ear pads of the safety earmuffs are made of soft leather and sound-proof sponge, which can be rotated 360°, adjustable headband can be extended by 3 cm, and the shell is shaped with sturdy material, closely fit the child's head, won't cause pressure to children's ears.
【Mighty Noise Reduction Earmuffs】: 65% of children with autism are oversensitive to sound, this noise-canceling headphone designed for kids can reduce the sounds that are upsetting to them, protect kids hearing from damage and stabilize sensitive children's emotions.
【Lightweight & Portable】: This ear defenders only 205g, suitable for carrying around, you can put into your bag for emergencies. The foldable design perfect for indoor and outdoor use, ideal for air shows, concerts, fireworks, sports events, yard work, shooting range, etc.
【Unique Design-Starry Sky】: Every child has a dream that when they grow up, they can become astronauts and travel in the vast space. This earmuffs not only protects your children, but also guides them to more healthy and upward hobbies, recommended for kids ages 1-16 years.
Bestseller No. 10
DWJSu Autism Awareness Pandora Charm Puzzle Piece Enamel ASD Bead You Fit Me Perfectly Heart Charms for European Charm Bracelet, (DW-NEW066)
Hole Size: 4.5-4.8mm; Nickel-free, lead-free, cadmium-free and hypoallergenic.
Autism Awareness Charm-Compatibility:Compatible with Troll, Chamilia, Pandora, Biagi or other styles of European Bracelets
Meaningful Gift:A wonderful gift for that special person in your life - whether it is for a birthday, Valentines Day, an anniversary, or any other special occasion.
Customer Service: Whether you are our customer or not, we will provide the great service for you! Your satisfaction is the biggest driving force for us to move forward.90-Day Money Back Guarantee or Exchange,and if you have any question, please be free to contact us!
Autism, also called autism spectrum disorder (ASD), is a complicated condition that includes problems with communication and behavior.
Bestseller No. 11
Fundraising For A Cause | Autism Awareness Break away Lanyards - Multicolored Autism Puzzle Piece Breakaway Badge Holders (1 Lanyard)
AUTISM AWARENESS LANYARD: This autism breakaway lanyard is great for teachers and medical professionals to wear. Our inexpensive lanyard/badge holder can be worn with the safety of knowing if a child pulls on them they will break apart.
SPECIFICATIONS: Our sturdy breakaway awareness lanyard was designed to be practical for everyday use around children with autism. Each lanyard is made with a soft, durable material that doesn't irritate the skin. These break away lanyards/badge holders feature a quick-release clasp that snaps apart when pulled. The lanyards feature a high-quality key ring. The fabric part of these lanyards are 18 inches long by 3/4 inch wide. The lanyards/badge holder allows you to spread awareness about ASD.
GIFT AUTISM LANYARD: This autism/Asperger's awareness item is perfect to gift during Autism Awareness Month in April. Share it to raise awareness for organizations focused on autism research like Autism Speaks and the Autism Society.
AUTISM PUZZLE RIBBON: The multi-colored puzzle piece ribbon featured on these lanyards was adopted as the universal sign of autism awareness in 1999. The puzzle pattern represents the complexity of the autism spectrum and the different colors reflect the diversity of people and families living with the condition. The brightness of the ribbon signals hope. Gift or sell these lanyards spread information about early intervention and access to appropriate services/supports for people with autism.
USA BASED COMPANY: Fundraising For A Cause was founded in 2005 after our founder Karen Conroy's sister was diagnosed with Breast Cancer. She saw how many people and organizations struggled to raise money and awareness for different causes. She came up with the idea of selling awareness products as a way to generate money for these organizations. Our state of the art 15,000 square foot warehouse located in Tampa, FL is stocked with over 6,500 different awareness products.
Bestseller No. 12
MediPal Medical Alert ID on Seatbelt Covers Shoulder Strap, w/Emergency Medical info for Autism Awareness, an Allergy ID, Seizure Alert, Diabetic ID, Dementia Product for Elderly + Medication List
QUICK ACCESS + HIGH VISIBILITY – An optimal location on the seatbelt, red emergency insignia on display + reflective trim for night-vision is an attention-grabber for emergency medics. The attach/detach design uses overlapping Velcro strips, offers easy access to patient's comprehensive medical information.
HEALTH PROFILE FORM included- Fill out the tri-fold form by hand or download the optional pdf version (English or Spanish). This is a screen-fillable form saved to your computer and so easy to update your info anytime! Room to note underlying health conditions, medication list, emergency contacts, health history, special needs, blood type, allergies, preferred language, etc.
POSITION FOR COMFORT + SAFETY- The MediPal ID's ability to slide freely along the belt supports a function of the seatbelt retractor: to reel-in an unbuckled seatbelt. Any hinderance of this function may cause excess belt to dangle below your seat or outside the car door while you are exiting.
PORTABLE + POLYPROPYLENE CONSTRUCTION (backpack material) helps ensure the MediPal ID lasts for years. Fits ALL standard and international width seatbelts (46-49mm wide). Compact size (4"x2.5" when folded). Transfers to purse, backpack or fanny-pack strap, waist belt, and most walker and wheelchair bars.
PROVIDES PEACE OF MIND to family members – a great way to reduce the many stresses in our day to day lives.
More Autism Safety Resources:
When you purchase items from Amazon from this site, I receive a small percentage at no additional cost to you. Thank you for supporting A Day in our Shoes.