Yesterday was such an exciting day for me and Kevin. We were invited to join the Education Law Center and Arc of PA in Harrisburg for a day of special education lobbying.
Specifically, we were there to help lobby for Senate Bill 1115. This will just be photos and a recap of our day's activities. So spend the day in my shoes as I lobbied for our kids.
Getting to Harrisburg for disability lobbying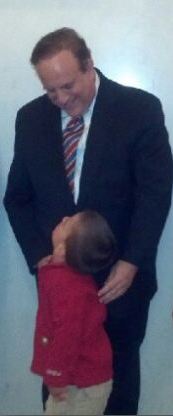 We got up early and headed up to the Parkesburg train station platform to catch the 7:15 train to Harrisburg. I had decided over the weekend that I would rather take the train. I end up driving either to or through Harrisburg a few times a year and I loathe that drive. I love the train. It's usually very affordable and they have wireless so I can work for much of the trip, instead of cursing in traffic.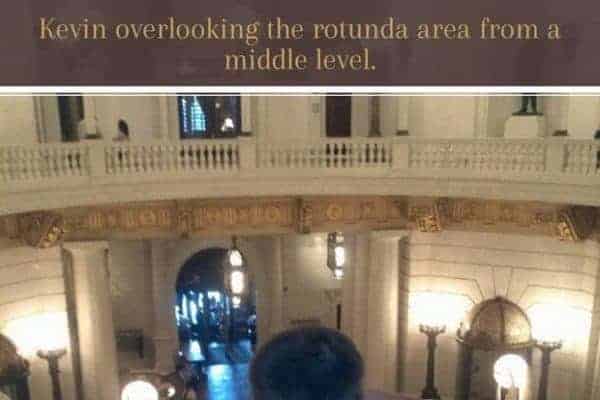 I was unfamiliar with the Parkesburg platform and was running late. I had to pick up Kevin and carry him down the hill, under the trestle and then up the steep flight of stairs to the other side. Starting out the day stressed and breaking a sweat–not good so far. I had mapped out the walk from the Amtrak station to the Capitol and decided we could do this. However, I underestimated how much walking we would be doing in and around the Capitol, and that came back to bite me later. More on that in a bit.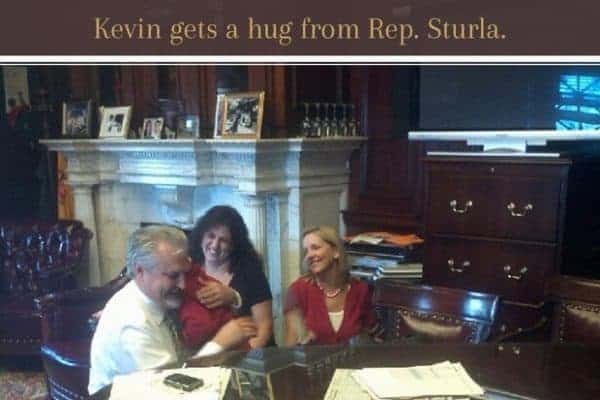 Walking from Harrisburg station to Capitol
Our train arrived in plenty of time, but once we got outside the station, Kevin plopped down on the sidewalk and decided he wasn't going to walk. Awesome. He only pulls this trick once a week or so, but lucky me, today was the day. I carried him for much of the half-mile walk or so, stopping every two blocks or so to see if he would walk. Nope. He actually even folded his body in half at one point, sitting with legs stretched out in front of him, bent at waist, completely unwilling to get up. At one point, on the Capitol grounds, my wedge heels caught an edge and we went down.
Two guys half-heartedly stopped to help us, but they gave us a lame "are you ok?" followed ten seconds later with a "You're allright buddy" to Kevin. And they were smoking, ick. Kevin has a goose egg on the side of his head from hitting the sidewalk. We are NOT off to a good start, now complete with head injuries.
To be honest, I was feeling mildly stranded because at this point my car is back in Parkesburg, so like it or not I am stuck in Harrisburg until my 3:20 train comes.
So what did I do? We sat on the sidewalk. Yep, just sat there, with him in my lap. We shared a juice pouch, dried our tears, regrouped and dusted ourselves off. I am still curious, wondering if the whole incident is somewhere on Capitol security camera footage. Anyway, we went inside the Rotunda, found a spot to sit and waited for our group members. The Rotunda is a wonderful sight, hasn't changed a bit since I last saw it……over 30 years ago as a young student on a field trip.
Let the disability lobbying begin!
Our group trickled in–it was some folks from the Philadelphia office of the Education Law Center, a few from the Arc of PA, The PA Council of Churches, PA Education Voters, and a couple other families. Our first stop, the Governor's office!
Governor Corbett was not there, this meeting was with some of his staffers. Oh well. I was disappointed at not meeting the sitting Governor, but let's face it, if you read this blog you know I'm hardly a fan. I would be reimbursed in spades for this disappointment later. We discussed the bill with his staffers and how it affects us as families living with special needs. I found their response to be disappointing, that they are expecting to have the bill reach his desk with the charter school legislation attached.
Onto the state legislators' offices
The rest of the day is a whirlwind. I honestly don't remember in what order we visited the Senators and Representatives. The Capitol is a huge complex, and it's quite labyrinth-like because it's so old. We walked and walked and walked. And since I knew this would take a toll on Kevin, I carried him for much of the way. It worked, and he did not tire and meltdown until the very end.
We had one last-minute visit at the media center, which was unplanned and we were going to try to squeeze it in before the train. Kevin melted down, so we passed on that opportunity so I could slowly (carrying him, again) make our way back to the Amtrak station. Once we got outside in the beautiful autumn Pennsylvania weather, he was fine. He had just had enough of lobbying I suppose.
Here is who I remember meeting with:
Senator Andy Dinniman (Chester and Montgomery counties)-Education Minority Chair, long been a friend to our cause
Senator Browne-sponsored the bill; from Lehigh/Northampton counties, PA Senate Majority Whip;
Senator Sturla-sponsored and co-authored the bill; has an 18-year-old son with autism
Senator Roebuck (Philadelphia)-State House Education committee chairperson
Senator Bernie O'Neill (Bucks county)-co-sponsored bill, spent many years as caregiver for his sister with intellectual disabilities
All in all it was a fun and educational (no pun intended) day. I am very thankful to the Education Law Center for giving us this opportunity. I love showing off my son and his attributes. Those of you that know him, know that he is quite charming. He just has this way about him, when people meet him they are just very taken with him. Yesterday was no different. Pam Klipa from Arc of PA just kept saying "I just want to squeeze him!" Several remarked how handsome/cute he is. Senator Sturla was moved to hug him–he's just very cuddly and snuggly and people like being around him.
But wait! I said that we had a terrible start to the day, with some redemption at the end………..here it is.
I was exhausted. My arms hurt (still do). Couldn't wait to get home. I'm sitting in the Harrisburg train station, just waiting for that train. I look up and see a guy walking towards us. My first thought was, "Wow, that guy looks exactly like Ed Rendell." It was Ed Rendell! I jumped up, walked over to him and gushed "I'm a huge fan, can we get your picture?" I hastily just handed my tablet to some random guy in the train station to take our picture, and I'm rambling about why we're in town.
He was as nice and as personable in person as all the articles say he is. He's been in charge of either Philadelphia or Pennsylvania for much of my adult life, and I'm a huge fan. It made my day. I miss him. He sat a row behind me on the train, and I thanked him when we got off and told him "We miss you." He looked up and said "I miss you guys too." I miss having him 'around' all the time, but from what has been published recently, it doesn't look like he is getting back into it any time soon if at all. Oh well.
It was a great day and I was thrilled to be a part of it all.